Worship
Every member of Second Baytown is expected to fully worship God with all of their lives. This not only includes connecting in Sunday worship service regularly, but also means a commitment to a Christ-centered, grace-based life throughout the week.
Connect
Our desire is for every member of Second Baytown to connect with a small group of believers. The Bible says that we, as believers, are to bear one another's burdens. Through the small group connection, each member can build a support group of people who care enough to stand with you when you are weak.
Serve
As a person grows spiritually there comes a point when it is time to give back. Service to the Lord is service to people, and every member of Second Baytown should eventually find an outlet for serving. When we use our God-given gifts and talents to serve others, we become more fulfilled.
Invest
Finally the last core belief of the church is that every member should invest into this church and the people it serves. This investment means two things. First and probably the most obvious meaning is within the aspect of giving to the church.
Brandon White
Lead Student Pastor
Falyn Ruby
Associate Student Pastor
A Place for You to Grow
On Sunday nights, all of our middle school and high school students gather for "Merge+", where we all dive into the Word of God and worship together. Students will meet in small groups that are geared specifically toward their particular age group in order to talk about practically living out their faith.
These years in middle school and high school can be tough, but we aren't meant to live in isolation! We are made for community and the encouragement and accountability that comes from "doing life" with others. If you're a student and you're on the fence about what choice to make, we hope you know that you'll be welcome to come and grow with us anytime.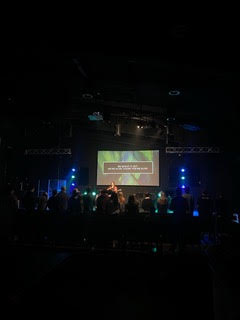 Merge+
Merge+ is our weekly worship gathering specifically designed for junior high and high school students. In this setting, we focus on creating a safe and fun environment to engage students with biblical preaching, musical worship, and genuine relationships. Merge+ is an incredible opportunity for 6-12th graders to have fun and encounter God in a meaningful way. Food will be provided.
Sundays from 5:30-7:30 PM
The Gathering (Jr. High Small Groups)
The Gathering provides an opportunity for junior high students to experience a fun and accepting community with students their age. In The Gathering, students will have the freedom to play games, get to know one another, and will be engaged with a new biblical truth every week.
The Gathering (6-8 Grade)
Sundays 9:30 & 11am @ The Overflow